Founded in 2000, Safe Passage Heals is a non-profit serving Southern California. Our mission is to break the cycle of domestic abuse by healing and empowering women and children, enabling them to live new, safe and productive lives. Since its creation, more than 2000 women and children have come to Safe Passage Heals looking for counseling and shelter. Founded by a domestic violence survivor herself, Trish Steele was inspired to help women and their children break the cycle of abuse and started as a small ministry out of her house, which grew into Safe Passage Heals and has served many over the years.
Our clients have a 95% success rate in breaking the cycle of domestic violence and creating a new life for themselves and their children. Upon completing our six-month program "Stepping Stones to a New Life," our graduates find steady employment and secure housing and enter the workforce in various industries such as nursing, social work, and cosmetology.
Our Founder
Trish Steele, Founder and CEO of Women Crowned In Glory, Inc./Safe Passage has spent twenty seven years reaching out to all women, encouraging and directing them to fulfill their calling in life.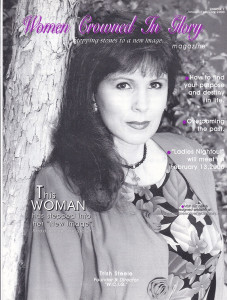 As an author, model, beauty consultant and spokesperson, Trish brings great awareness to the issues of domestic violence, and is an amazing example of how an abused woman can be restored to start a new life of success.
Trish drew upon her own past experience with domestic violence, overcoming all forms of abuse, and hopelessness.  With the help of many experts who gave their time and services, she was able to rebuild her life and break the cycle of abuse.  She has also conquered hearing loss as a result of childhood fever, which proves that any challenge can become a person's greatest victory.  Trish initially sheltered women in her own home before getting the funds to establish a permanent Safe-House residence in Sherman Oaks. She is also quite accomplished, as she has won the 1987 California Gold Coast Pageant and was the first runner-up of The Beauties of America Pageant. Trish later published her own book in 1997, "The Compelling Life Changing Stories of 12 Women". This book is a wonderful inspiration to others, and shares stories of triumph and faith.  Another accomplishment is that she successfully hosted and created a two time Angel Award winning cable talk show "Women Crowned in Glory" in which men and women could share their life-changing stories.
Trish began performing her own extreme makeovers on survivors of domestic abuse through Safe Passage, long before "Extreme Makeover" became a hit show.  Safe Passage helps women find various services, such as shelter from abusers, job placement, makeovers, and a new place to live.  The mission of Safe Passage is to give survivors a new life, with the hope of building confidence and leaders that can give back to the community. Over 60 emergency calls a month are directed every day to the right resources to safety and hope.  The program has a 95% proven track record of helping survivors of domestic violence. Since 2000, more than 1700 women, and their children, have come to Safe Passage looking for shelter and support.
In April 2011, Trish received the "President's Volunteer Service Award" from President Barak Obama, for helping to address the most pressing needs in our community and our country. Her dedication to helping others has earned her recognition, and awards, from various groups; Southern California Motion Picture Council, Beautiful People Awards, LA Family Housing, Tolucan News, Celebrity Society Magazine, The Los Angeles Times, Studio City Sun, and Amazing Woman's Advocacy. Mayor Antonio Villaraigosa, City Controllers Ron Galperin and Wendy Greuel, as well as Los Angeles City Council member Dennis Zine have all honored her.
Since 2000, more than 1800 women, and their children, have come to Safe Passage looking for shelter and support.