TESTIMONIALS & SUCCESS STORIES
Amanda Duarte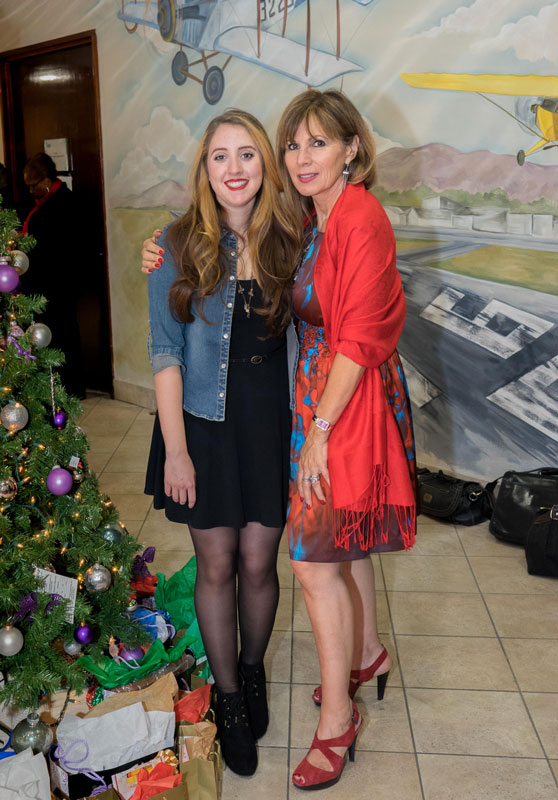 I've been with Safe Passage since March of this year. Before Safe Passage, I was a victim. A victim of abuse, of circumstance, of time, and of my own mind. Today, I stand, no longer a victim, and not just a survivor. Safe Passage has taught me that surviving and living are two different things. They taught me how to not just go day by day merely existing; but actually creating a life for myself. Today, I stand, an empowered woman, who knows her self worth, who has a reason to live, and to help others.
I came to Safe Passage through a friend; at the time I was skeptical. I did not believe that I needed help, or that I was victim. After a few sessions with Linda and Madelon, I saw how much all that I had gone through had affected my life and my thinking of myself and the world around me. I was a depressed, anxious, and very angry resentful person. I had never really known what it meant to let go of all the baggage that had accumulated over time. My emotions and my thoughts controlled me, and I would act impulsively on feelings rather than on thoughts.
My struggle with past abuse had left me feeling worthless and hopeless. I never believed I was capable of healing. Linda showed me otherwise.
If you've never been to a session with her, well there really is no way of explaining it. It's not like typical therapy. I was always skeptical of the whole idea of someone asking "and how does that make you feel?" actually helping you. She conducts the sessions in such a way that you look back at the memories and see things you never saw before. When God stepped in and started the healing process, I was amazed. I can actually say that I am incapable of feeling the same way I used to when I look back at the all the past hurts in my life. It's no longer a chain that I feel is tying me down every day. I feel like I am able to carry on with my life, without any strings attached. For the first time since I was very little, I feel free. Linda has helped me more than words can say. For all she has helped me with, for all the coping skills and life lessons. For all the grace, compassion, love and forgiveness she showed me; thank you, from the bottom of my heart.
Aside from the sessions I had with Linda, there were the meetings we had weekly with the other women in the program and a life coach, Madelon. I remember the first meeting I attended and listening to the material she had prepared for us I almost started crying. It was about the three people you need to forgive before you can really move on with your life. Those three people are 1) your parents, 2) yourself, and 3) anyone and everyone who has ever wronged or hurt you. This may seem cliché or like common sense, but this truth hit me like a truck! Forgiveness is for you, so you can move on and not be tied down emotionally or mentally to situations and circumstances in the past. All the tools and material Madelon worked so hard to prepare for us each week has changed my life, and will continue to change me every time I go back through it. She has shown me that I can accomplish anything I put my mind to through the use of goals, good habits, hard work, dedication, good time management. Madelon, thank you for all that you did for me and for the other women. Thank you for being such a blessing in our lives, helping us to organize and teaching us to take control in our own stories.
Through this program, I have grown and have had a sense of maturity in understanding things I never could before, about myself and others. Meeting with the other woman helped with that as well. Seeing that these women came from all different walks of life, and we all were dealing with domestic violence or abuse in one form or another showed me that I was not alone, and we need to stand together to break the cycle. Some of my fellow graduates have shown me much love and support for the time I had with them, and I would like to thank you all for that and all the advice and wisdom you have passed down to me. Thank you for being so accepting of me even though I'm just starting my life and don't know as much as you all. You are all strong, beautiful, intelligent people and I am so honored to have gone through this program with you!
And lastly, to Trish Steele, thank you!!! Thank you for having the vision of creating a wonderful charity dedicated to helping those who have been through domestic violence. Because of Safe Passage, I feel like I can have normal life again. I want to help those who have been through what I've gone through. Because of all the women I've met through this program, I've learned to love myself and forgive others. I have a hope for a brighter future not only for me, but for those around me who have also experienced healing as a result of my own healing. I have a desire to excel in my education and career that wasn't there before. I'm excited for life! So long depression and anxiety, negative thoughts and bad habits. I am a new person thanks to Safe passage. Thank you for showing me how to live life abundantly and not just merely exist.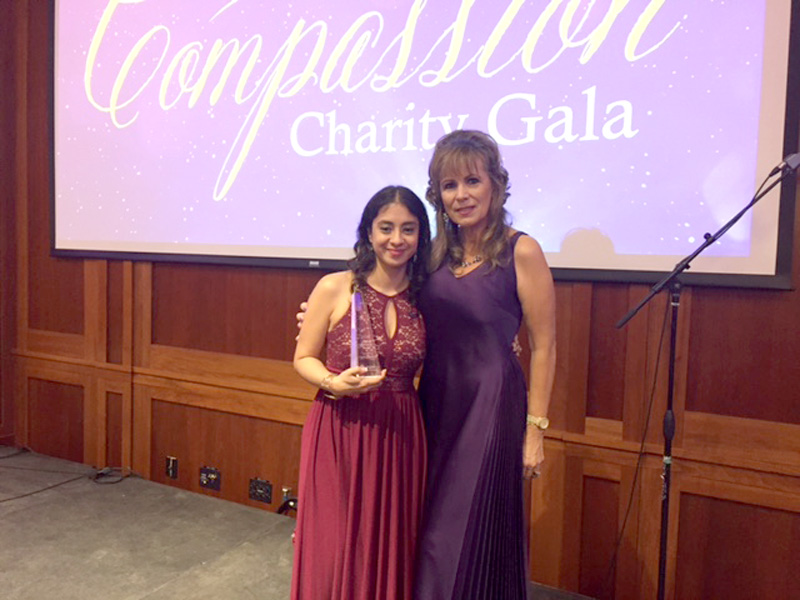 Karen Gonzales- Story for her Legacy Award
During the subsequent years of getting back on her feet, Karen immersed herself in trauma-informed education. With the help of other organizations such as Echo Parenting & Education and Safe Passage, she got certified in parenting education and is now a domestic violence counselor to help others realize they don't have to be a victim for life.
Karen said she has learned first-hand how deeply children of victims and the whole community are affected by domestic violence.
As part of what she called "the movement of survivors to come back and to give back," she suggested people can help through funding, sharing talents, empowering victims, and being a friend.
"There has to be a safe place for victims," she said, "and they need help getting back on their feet." Just like she did.
---



During our Awards Gala, former Safe Passage graduate, Catherine Sanson received the Andy Armstrong Positive Action Award
This award is given to an advocate that promotes ending Domestic Violence, making strides to take positive action to accomplish this goal. Her son, Luke inspired us all as he also received the award alongside his mother making a speech that stunned the entire room. Luke was passionate in his deliverance about an implementation of a law, "Luke's Law", that gives children and teenagers a voice, who have been teared down by the judicial system from domestic violence cases.
Catherine Sanson says, "I am very proud of my son for courageously speaking out against the injustice that he has had to endure these past years. Although, "Luke's Law" will not be executed in time to give Luke the voice he wants in the US court system today, it is time for new changes. Luke desires to stand up and be the voice for all children. A voice to all to speak out against abuse inflicted upon them without revictimization. Judges should see and hear from them before any recommendations of their best interests are given".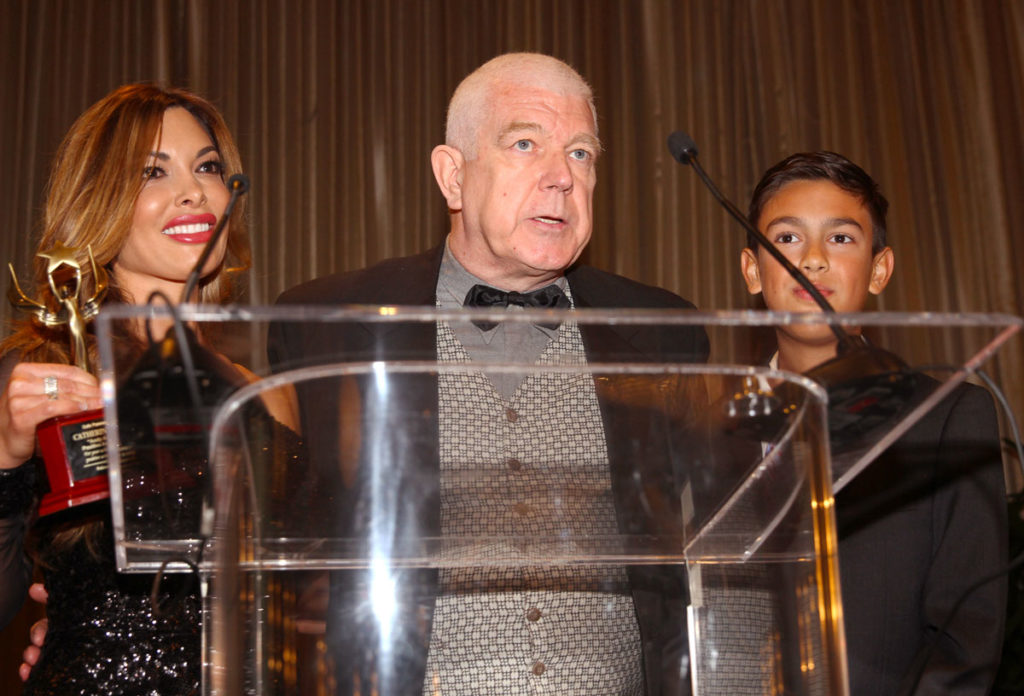 "Wow! I am extremely proud to have been even a small part of the awards process and especially to have my name on this award. Luke's speech was something absolutely incredible. A terrible reminder of what can be allowed to
happen without something like "Luke's Law" but also a truly moving speech by a young man who has endured horrible actions and yet has turned his experience into a really wonderful cause. Luke's strength of character, projection of opinion and intelligent maturity were nothing less than amazing. I really feel his speech should be something that is shown in schools as there are clearly many stories like his past happening to other children. But I doubt many victims would have the courage and absolute honesty to talk about them the way Luke can. An inspiring young man! Well done, Catherine Sanson!"
-Andy Armstrong
Helena's newly home furnished by Home Consignment and Services
donated by Teri, an expert designer at InspiredHomebyTeri.com