20th ANNIVERSARY CELEBRATION
OUR 20th ANNIVERSARY CELEBRATION WITH OUR CHAMPIONS   
DINING AL FRESCO, LIVE ENTERTAINMENT, EMPOWERMENT FASHION SHOW, LIVE AUCTION
SATURDAY, DECEMBER 5TH | 4:00 – 7:00 PM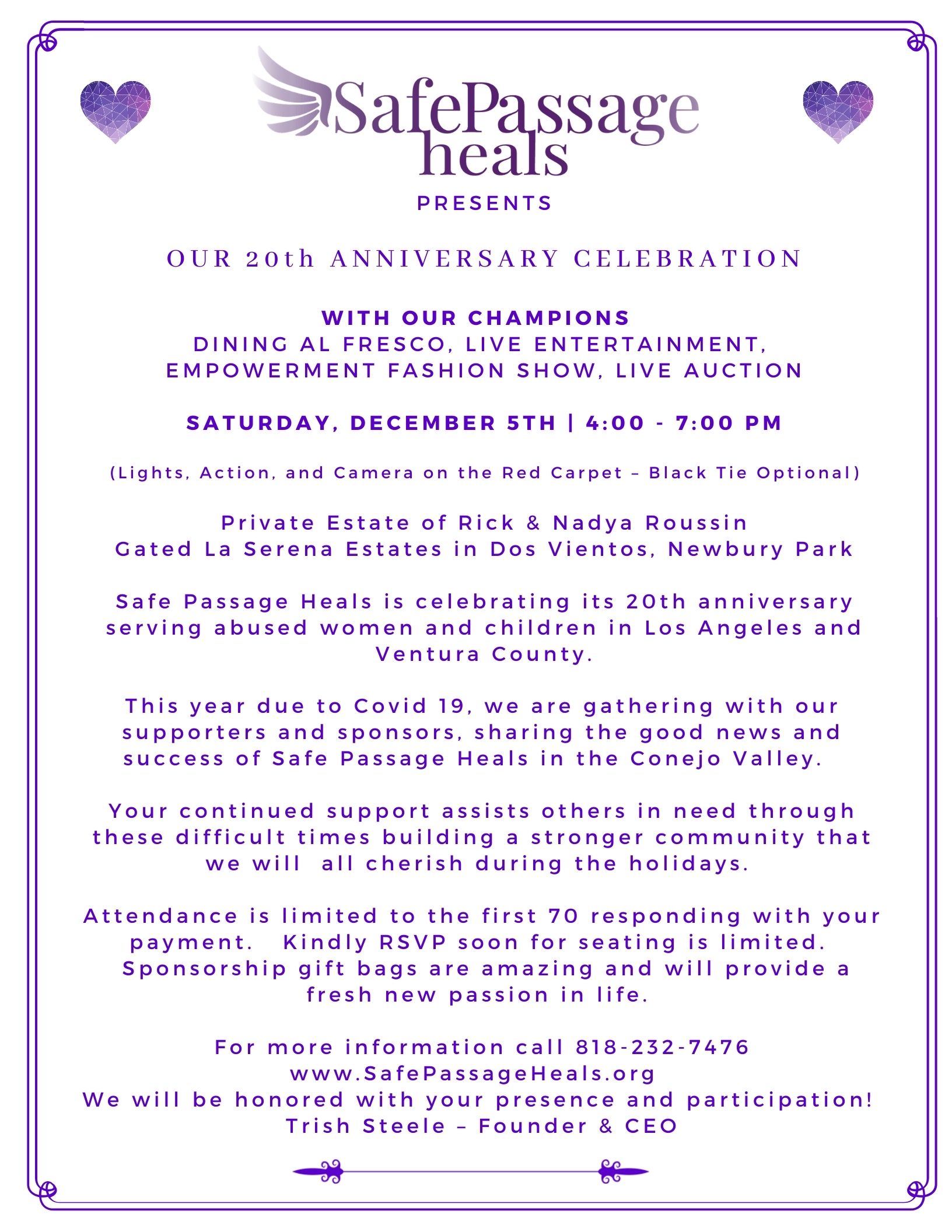 SAFE PASSAGE HEALS PRESENTS
OUR 20th ANNIVERSARY CELEBRATION WITH OUR CHAMPIONS  
DINING AL FRESCO, LIVE ENTERTAINMENT, EMPOWERMENT FASHION SHOW, LIVE AUCTION
SATURDAY, DECEMBER 5TH | 4:00 – 7:00 PM
(Lights, Action, and Camera on the Red Carpet – Black Tie Optional)
Private Estate of Rick & Nadya Roussin
Gated La Serena Estates in Dos Vientos, Newbury Park
Safe Passage Heals is celebrating its 20th anniversary serving abused women and children in Los Angeles and Ventura County. 
This year due to Covid 19, we are gathering with our supporters and sponsors, sharing the good news and success of Safe Passage Heals in the Conejo Valley.  Your continued support assists others in need through these difficult times building a stronger community that we will  all cherish during the holidays. 
Attendance is limited to the first 70 responding with your payment.   Kindly RSVP soon for seating is limited.  Sponsorship gift bags are amazing and will provide a fresh new passion in life. 
For more information call 818-232-7476
We will be honored with your presence and participation! Trish Steele – Founder & CEO